SARS-CoV-2 Detection using RT-PCR Kits and qPCR Kits
RT-qPCR is the method of choice for detecting SARS-CoV-2 in the early stages of the infection. During the first week of a SARS-CoV-2 infection the virus RNA can be reliably detected in nasopharyngeal swab using RT-qPCR. In the early days of the outbreak labs went ahead and assembled SARS-CoV-2 PCR workflows themselves, often following the protocol published by Christian Drosten and his team (Charité Berlin) in conjunction with Marion Koopmans (Erasmus MC) and Maria Zambon (PublicHealth England).(1) Diagnostic companies were fast to follow and introduced commercially available SARS-CoV-2 RT-qPCR kits as early as February 2020.
We offer a hand-selected variety of qPCR and RT-PCR kits for the detection of SARS-CoV-2. Click on the links below to see more details.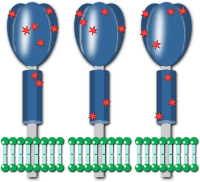 SARS-CoV-2 S Mutation Proteine
Wir unterstützen Ihre Forschung mit zuverlässigen SARS-CoV-2 Mutationsproteinen. B.1.1.7 / P.1 / B.1.351 / S Protein Wildtyp. 400+ Labore in Diagnostik, Pharma, Akademie verwenden unsere SARS-CoV-2-Forschungstools.
Entdecken Sie unsere Vielfalt an Mutationsproteinen
Featured Products
1copy™ COVID-19 qPCR Kit
1copy™ COVID-19 qPCR Kit provides the fast and accurate testing solution for COVID-19, specifically targeting the E gene for beta coronavirus and the RdRp gene for COVID-19 in sputum, nasopharyngeal swab and oropharyngeal swab. It is based on the WHO & KCDC reference method and it has been carried out the in sillico analysis for all registered COVID-19 sequence database.
Components:
Master mix (2 x 1000 μL)
Primer/Probe mix 1(E gene) (100 μL)
Primer/Probe mix 2(RdRp gene) (100 μL)
Control 1 (E gene) (100 μL)
Control 2 (RdRp gene) (100 μL)
DEPC Water Clear (1000 μL)
See ABIN6952539 product details
PhoenixDx® 2019-nCoV RNA qPCR Detection Kit (ABIN6952137)
Kit for qualitative RT-PCR-based detection of SARS-CoV-2 in Bronchoalveolar Lavage, Nasal Secretions, Oral Sample, Saliva, Tracheal aspirates. PHOENIXDX® 2019-NCOV detects the presence of 3 different and highly specific gene sequences of SARS-CoV-2: E gene, N gene and RdRP gene. All 3 assays must be tested positive to confirm the sample as SARS-CoV-2-positive.
Components:
50X VitaScript™ Reverse Transcriptase (100 μl)
PhoenixDx® 2X qPCR Mastermix E (500 μl)
PhoenixDx® 2X qPCR Mastermix N (500 μl)
PhoenixDx® 2X qPCR Mastermix RdRP (500 μl)
PhoenixDx® 2X qPCR Mastermix HEC (500 μl)
2019-nCoV Target Positive Control (TPC) (50 μl)
Nuclease-free dH2O (2 x 1 ml)
See ABIN6952137 product details
SARS-CoV-2 RT-PCR Nucleic Acid Detection Kit (ABIN6952468)
Suitable for the qualitative detection of new coronavirus SARS-CoV-2 nucleocapsid protein N gene in human throat swabs and alveolar lavage. Includes a one-step RT-qPCR mix. This product is for in vitro diagnostic use, following guidance from the FDA for Emergency Use Authorizations of tests submitted for approval on March 16, 2020. This test has not been reviewed by the FDA and results from antibody testing should not be used as the sole basis to diagnose or exclude SARS-CoV-2 infection or to inform infection status.
Components:
Primers and Probe N1 Solution (Primers & probe for N1) 140 μL
Primers and Probe N2 Solution (Primers & probe for N2) 140 μL
Primers and Probe N3 Solution (Primers & probe for N3) 140 μL
Primers and Probe RP Solution (Primers & probe for Human RNAase P) 140 μL
PCR Reaction Solution (Buffer, dNTP's) 12000 μL
PCR Enzyme Mix (Reverse transcriptase (RT) enzyme, DNA polymerase) 96 μL
Positive Control (Plasmid DNA containing target gene (Nucleocapsid protein) + plasmid DNA containing internal control gene fragment (RNP)) 480 μL
Negative Control (Nuclease-free water) 480 μL
See ABIN6952468 product details
Need Help? Call our PhD Customer Support!
We help you with finding the right product for your research.
We currently offer more than 300 antibodies, kits, proteins, lysates for Coronavirus research.
Contact us via email or phone: (877) 302 8632 (US) or +49 241 95 163 153 (International)
References
(1) Corman et al. (2020): "Diagnostic detection of 2019-nCoV by real-time RT-PCR" published on WHO Website
Sie sind hier:
SARS-CoV-2 Detection using RT-PCR Kits and qPCR Kits