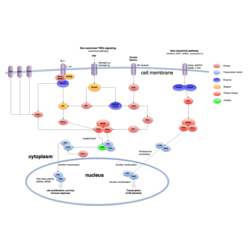 NF-kappaB (nuclear factor k-light-chain-enhancer of activated B cells) ist eine Gruppe homo- und heterodimerischer Transkriptionsfaktoren, die zentraler Bestandteil eines Netzwerks unterschiedlicher Signaltransduktionswege sind. Eine Vielzahl von Signalen, wie etwa Zytokine, Wachstumsfaktoren und Hormone, Infektionen, oxidativer Stress, bestimmte Arzneimittel und chemische Substanzen werden auf die NF-kappaB-Komplexe übertragen und anschließend weitergegeben, um Prozesse wie Zellüberleben, -apoptose und –proliferation sowie Immunantwort und Entzündung zu beeinflussen. Außerdem findet eine Überlagerung mit anderen Signalwegen wie dem MAP-Kinase-Weg und dem p53-Signalweg statt1. Aus diesem Grund sind sie hoch pleiotrop, unter anderem beeinflussen sie eine Reihe phänotypischer Eigenschaften2.
NF-kappaB ist ein homo- oder heterodimerischer Komplex, der in Säugetieren durch die RHD enthaltenden Proteine RelA/p65, RelB, c-Rel, NFKB1/p105/p50 und NFKB2/p100/p52 gebildet wird. Der heterodimerische RELA/p50-Komplex des kanonischen Signalwegs scheint der häufigste zu sein. Alle NF-kappaB-Proteine haben eine N-terminale RHD, die eine bedeutende Rolle bei der DNA-Bindung, als Dimerisationsschnittstelle sowie bei der Bindung an IkappaB-Inhibitoren spielen. NF-kappaB-Proteine variieren allerdings in ihrem C-Terminus: Proteine der Klasse I RELA, RELB und c-Rel beinhalten eine Transaktivierungsdomäne, wohingegen Proteine der Klasse II NFKB1/p105/p50 und NFKB2/p100/p52 eine Ankyrin-Repeat-Transrepressionsdomäne enthalten 3.
Beim kanonischen Signalweg wird NF-KB im Zytoplasma durch die Interaktion mit inhibitorischen IKB-Proteinen in einem inaktiven Zustand gelassen. Nach der Stimulation des NF-kappaB-Signalwegs durch einen der obengenannten Impulse werden diese Regulatoren durch einen IKK-Kinase-Komplex aus den Proteinkinasen IKKalpha, IKKbeta und NEMO phosphoryliert4. Die Phosphorylierung markiert die IkappaB-Inhibitoren für die proteasomale Degradation und setzt somit NF-kappaB frei. Sobald dies stattgefunden hat, wird NF-kappaB weiter durch posttranslationale Modifikation aktiviert und in den Kern verlagert, wo es mit spezifischen KB-Elementen interagiert5 . In Abhängigkeit vom Zelltyp und der Art des empfangenen Reizes wird der nicht-kanonische Signalweg einbezogen. Der Hauptregulator bei diesem Signalweg ist NF-kappaB–induzierende Kinase (NIK), die IKKalpha aktiviert und so zur Phosphorylierung von p100 führt. P100 wird anschließend zu p52 verarbeitet und führt so die Aktivierung und Kernlokalisierung des Dimers p52/RelB NF-kappaB sowie die gezielte Genexpression herbei.
Der kanonische Signalweg hängt nicht von der Proteinsynthese ab und antwortet schnell auf zahlreiche Reize für eine Vielzahl nachgelagerter Auswirkungen. Im Vergleich dazu ist der nicht-kanonische Signalweg langsam und andauernd und antwortet nur auf einen Teil von Signalen für spezifischere Auswirkungen.
Referenzen
Hoesel B, Schmid JA. The complexity of NF-κB signaling in inflammation and cancer. Mol Cancer. 2013 Aug 2;12:86. doi: 10.1186/1476-4598-12-86. PMID: 23915189; PMCID: PMC3750319.
Oeckinghaus A, Hayden MS, Ghosh S. Crosstalk in NF-κB signaling pathways. Nat Immunol. 2011 Jul 19;12(8):695-708. doi: 10.1038/ni.2065. PMID: 21772278.
Oeckinghaus A, Ghosh S. The NF-kappaB family of transcription factors and its regulation. Cold Spring Harb Perspect Biol. 2009 Oct;1(4):a000034. doi: 10.1101/cshperspect.a000034. PMID: 20066092; PMCID: PMC2773619.
Israël A. The IKK complex, a central regulator of NF-kappaB activation. Cold Spring Harb Perspect Biol. 2010 Mar;2(3):a000158. doi: 10.1101/cshperspect.a000158. PMID: 20300203; PMCID: PMC2829958.
King CC, Sastri M, Chang P, Pennypacker J, Taylor SS. The rate of NF-κB nuclear translocation is regulated by PKA and A kinase interacting protein 1. PLoS One. 2011 Apr 27;6(4):e18713. doi: 10.1371/journal.pone.0018713. PMID: 21556136; PMCID: PMC3083391.
Sun SC. Non-canonical NF-κB signaling pathway. Cell Res. 2011 Jan;21(1):71-85. doi: 10.1038/cr.2010.177. Epub 2010 Dec 21. PMID: 21173796; PMCID: PMC3193406.
Adapter
Cytokine
Enzyme
Wachstumsfaktoren
Inhibitoren
Kinasen
Proteinkinasen
Rezeptoren
Transcriptionsfaktoren
NFKB1 (Nuclear Factor of kappa Light Polypeptide Gene Enhancer in B-Cells 1):
RELB (V-Rel Reticuloendotheliosis Viral Oncogene Homolog B):
NFkBP65 - NF-kB p65: